EUROBAT Forum 2023 to debate Europe's energy security and the critical role of batteries in the green transition
EUROBAT, the Association of Automotive and Industrial Battery Manufacturers, is set to hold its General Assembly (members only) and annual battery conference – the EUROBAT Forum – at the Hotel Melia Princesa in Madrid on 6 and 7 June, respectively. 
This year's event will see leading experts from the battery industry and value chain, as well as EU policy-makers, academics, market experts and other leading voices, debate the key issues for the industry and Europe's clean energy transition. 
President of EUROBAT and CEO of HOPPECKE Batteries, Marc Zoellner, will open the event before four expert discussions: 
The critical contribution of battery energy storage to Europe's energy independence 
A binding target for the EU to deliver at least 42.5% of its energy consumption from renewable sources by 2030 was agreed on 30 March. Energy storage batteries are a pre-condition for achieving decarbonised energy systems. Andreas Jossen (Technical University of Munich), Luis Marquina, (Asociación Empresarial de Pilas, Baterías y Almacenamiento Energético) and Debi Prasad Dash (India Energy Storage Alliance) will look at the opportunities of battery energy storage from a research and innovation perspective and from the viewpoint of an EU Member State and will also touch upon the global dimension. 
The Critical Raw Materials Act: ensuring raw materials supply to the EU 
The European Commission released the Critical Raw Materials Act in March of this year in response to the increasingly competitive global raw materials supply market and to support the EU in achieving its net zero objective. Leading representatives of top international institutions and industrial stakeholders – Louis Maréchal (Organisation for Economic Co-operation and Development), Elisabeth Prieto Strobl (Critical Raw Materials Alliance), William Adams (Fastmarkets) and Michael Blakeney (Cobalt Institute) – who will discuss the effectiveness of the Critical Raw Materials Act and its ambition to compete with the United States' Inflation Reduction Act. 
Sustainability as a competitive edge: enabling sustainable batteries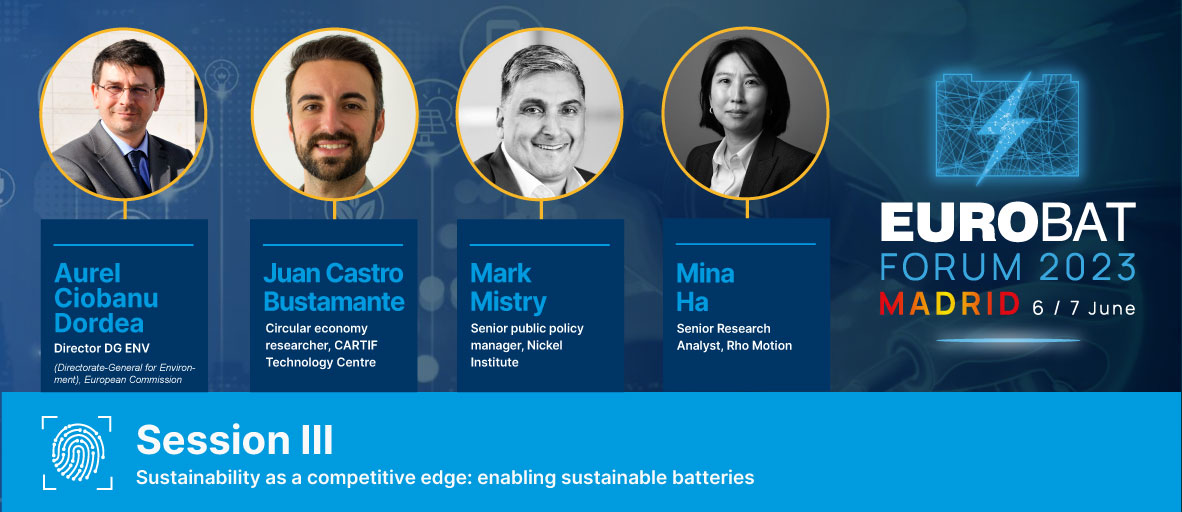 The EU has risen to global climate action champion over the last decade and has consistently embedded sustainability in its policies. Batteries made in Europe need to comply with very high environmental and human rights standards—but is this a bounty or a curse for the EU battery industry? In this session, Aurel Ciobanu Dordea (European Commission), Juan Castro Bustamante (CARTIF Technology Centre), Mark Mistry (Nickel Institute) and Mina Ha (Rho Motion) will discuss the industry's attitude to Europe's sustainability agenda.  
The role of batteries en route towards zero emission mobility 
A law that effectively bans the sale of cars and light commercial vehicles with internal combustion engines in the EU from 2035 onwards, with the exception of e-fuels, is set to be adopted. The final session will explore what this will mean for mobility at European and member state level, whether this will be the decisive catalyst for accelerating the roll out of EVs and the necessary charging infrastructure and if there will be enough raw materials to meet the forecast surge in demand. Hear the latest from our expert line-up – Arturo Pérez de Lucía Gonzáles (Asociación Empresarial para el Desarrollo e Impulso de la Movilidad Eléctrica), Christophe Pillot (AVICENNE Energy) and Rodolfo Occari (European Materials Handling Federation) – on this exciting topic!  
Join us in Madrid to debate these key issues with more than 100 key European battery industry stakeholders, including senior company executives, policy-makers, association and NGO representatives and more. The official Forum dinner will take place the night before on 6 June at the stunning Casino de Madrid. 
Register for the Forum here. 
We look forward to seeing you on 7 June!